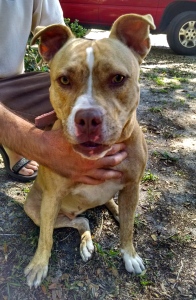 Never a dull moment around here at TLOV. While working on the morning duties, a sweet little Pit Bull strolls of the busy and very dangerous road and into the yard.
I hear Edison (Boxer Mix/Bulldog mix) barking as if he sees someone/something at the front of the house. I stop what I'm doing to check it all out, and I see Berry and a stray dog looking at me. She is very friendly and social. Her collar however, was tight and Berry loosened it for her to give her more comfort. She wasn't covered in fleas as most of the stray dogs around here are. For the most part she seemed somewhat cared for. I glanced at her paws and it appeared as though her nails were freshly cut.
We put a post out on our FB page and with everyone working together to network her and her owner was contacted. The owner claims she had been stolen and had been gone for a month or so ago. Maybe that's why her nails looked so good. From the look of her nails she may have been walking the concrete streets for a month! Who knows what happened, but at least we know she's safe and at home at the moment.